Getting to Itza Resort
Upon your arrival at the International Airport (BZE), you will need to allow time to clear immigration, pick up your luggage, pass through customs, and grab a taxi to the Ramada Princess Hotel Marina. We can arrange a taxi at the airport for you. You pay the driver directly
Our scheduled boat transport and Check-in and Check-out is on Wednesday at Saturday. To accommodate for later flights on Saturdays, we have added a second departure time: 8AM on Sunday from Belize City to resort.
If you are unable able to meet the boat at 2pm on Saturdays, we will have a room booked for you at the Ramada for Saturday night, departing 8AM Sunday Morning.
Groups of 6 or more person are not lock to our Check-In and Check-Out Days. 
We will be awaiting your arrival, ready to transport you to Itza Resort!
Early Arrival
If you arrive on an early flight, the restaurant is located at Ramada Princess Marina and is a full-service restaurant and bar.
You may want to take a flight to Belize a day before check-in, as many of done to catch the boat. We recommend staying at the Ramanda Princess Hotel at the Dock or Golden Bay Hotel a few minutes away.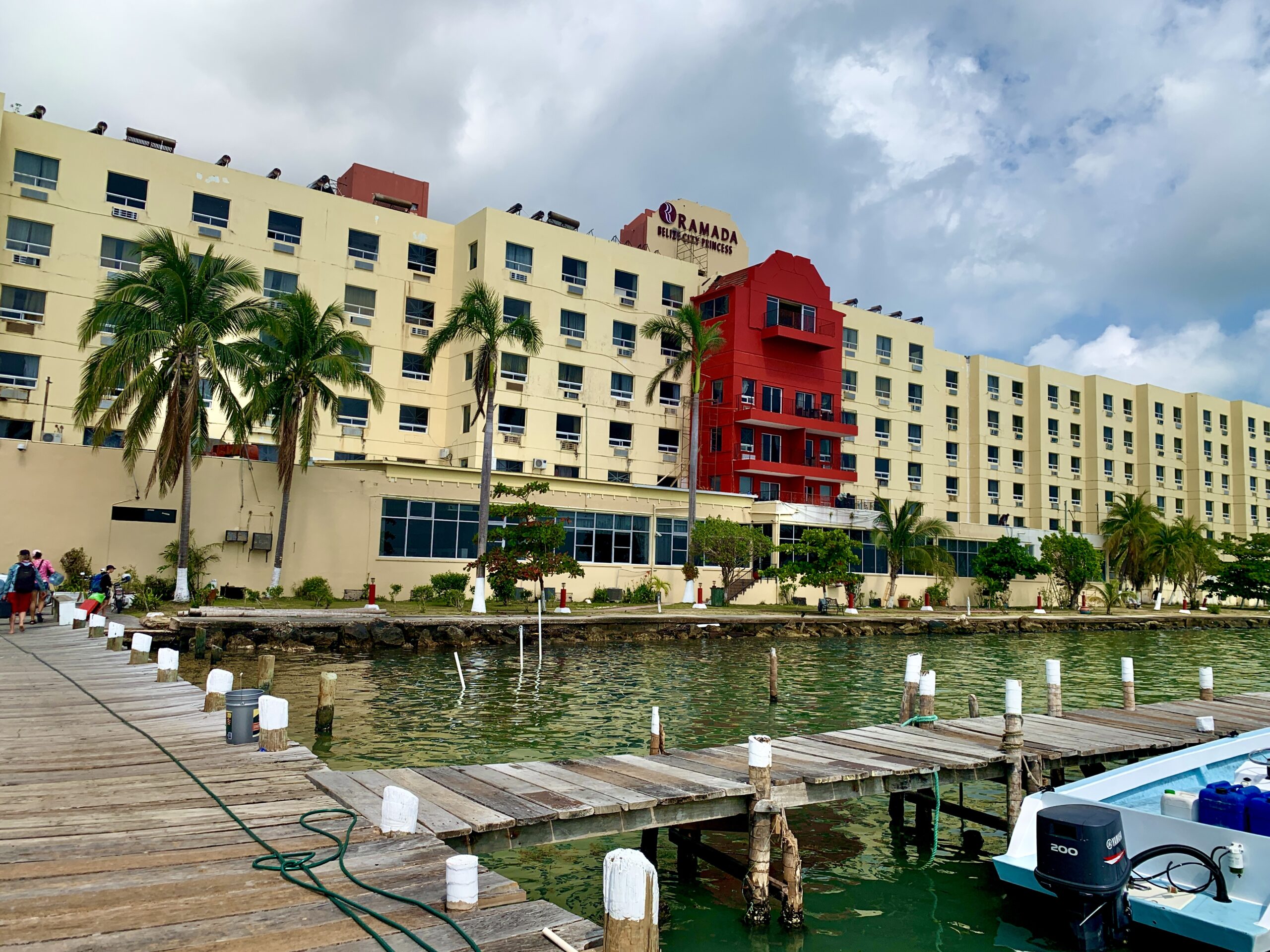 What to expect on the boat transport ride..
Your Belize adventure begins the moment you leave the Ramada Princess Marina! Transportation to Long Caye departs at 2:00 pm on the day of your reservation.
As you pass through the beautiful Caribbean waters, keep your camera handy. We travel through the mangrove paths of the Turneffe Atoll. We might pass traditional Belizean fishing boats, cruise ships, sugar cane barges. We often encounter flying fish, pods of dolphins or whales.
Itza Resort is located 70 km or 44 miles offshore from Belize City. Please remember that Long Caye is about a 1 1/2 to 2-hour boat ride. Your luggage may not be accessible during the transfer, so we suggest you pack a small bag with reef-friendly sunscreen, polarized sunglasses, a secure hat, camera, wind-water breaker or anything else you think you might like to have available during the journey out to Itza Resort and Lighthouse Reef Atoll.
On the day of your departure, your boat back to Belize City leaves at 8:00 am, which allows time for you to catch your afternoon flight.
IMPORTANT: Our transportation to Long Caye is scheduled on Wednesdays and Saturdays only.