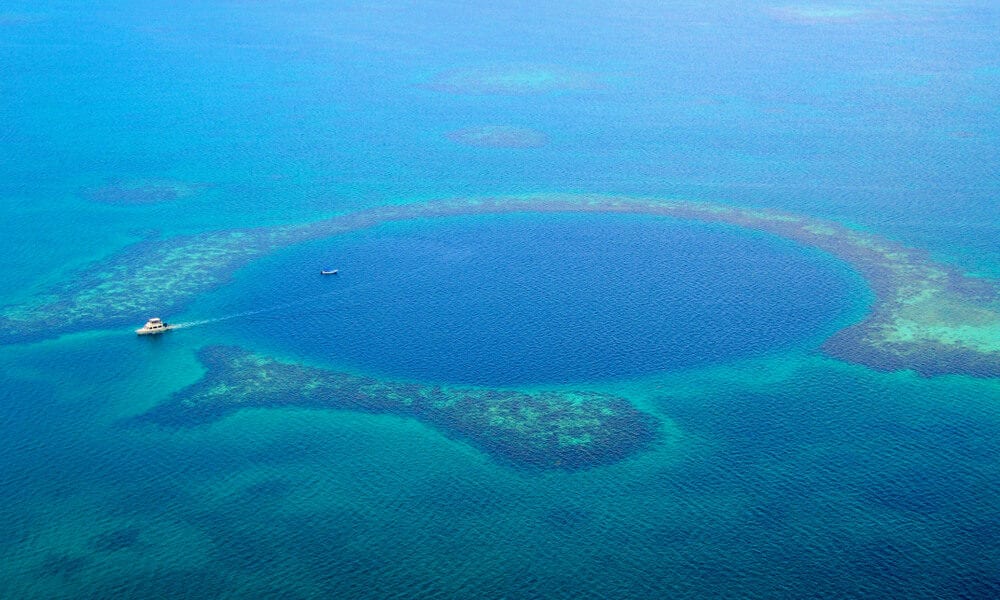 10 interesting facts about the Great Blue Hole, one of the most popular tourist attractions in Belize, famous around the world for its breath-taking beauty and fantastic diving opportunities. Still, this natural feature is poorly understood by the general public, even by many of those who purchase Belize dive packages to this giant marine sinkhole.
This list of 10 interesting facts will enlighten you and lead you to appreciate Great Blue Hole even more, whether you've been scuba diving in Belize before or are just considering taking a trip.
1. Great Blue Hole is more than 100 m deep
Actually, it's measured at 125 meters at its deepest point, more than enough to force divers to carefully plan their descent and ascent in order to avoid decompression sickness.
2. Great Blue Hole is around 150,000 years old
The geological process that resulted in the creation of this natural wonder started 153,000 years ago, and ended about 15,000 years ago when this underwater fissure assumed the shape it has today.
3. Great Blue Hole was originally located inland
Closer analysis of its features reveals that Great Blue Hole was originally an inland cave, before it was flooded by the rising sea levels at some point during its history.
4. Many species of sharks live in or near the cave
Biodiversity is one of the most important reasons why people want to see Great Blue Hole. In particular, this place is home to several shark species including Caribbean reef sharks, nurse sharks, hammerheads, bull sharks, and black tip sharks.
5. The name was coined by a diver
It's only logical that the current name of the Great Blue Hole was proposed by a British diver and author named Ned Middleton who saw its wonders with his own eyes and appreciated them greatly.
6. Great Blue Hole is a part of a larger coral reef
In fact, it is located right in the middle of Lighthouse Reef, one of the three atolls within the Belize Barrier Reef. However, the origin of the Belize Blue Hole is related to the glacial processes of limestone erosion, not the buildup of corrals.
7. Depth of the hole was first charted in 1971
One of the first public promoters of the Great Blue Hole was the famous French ocean scientist Jacques Cousteau, who used his submarine 'Nautilus' to map its depths in 1971.
8. Great Blue Hole is a World Heritage Site
UNESCO declared the entire Belize Barrier Reef (including Great Blue Hole) a World Heritage Site, making it a protected location of extraordinary importance for Belize and the rest of the world.
9. Only experienced divers are allowed to descend
While Great Blue Hole is open on the surface, it features an extensive cave system that requires a lot of diving skill to successfully navigate. Only divers with at least 24 dives under their belt are allowed inside.
10. There are many tourist resorts in the vicinity
Numerous hotels and tourist resorts, including our own Itza Resort, are located nearby and offer diving tours of this magnificent attraction, including trained guides who worry about safety of the visitors. Itza Resort is great for travelers looking for a vacation package near the Great Blue Hole.
We hope you enjoyed, 10 interesting facts about the Great Blue Hole are why you should visit Belize today!
FYI: Itza Resort and the Great Blue Hole is located about 43 miles from Belize City. It takes about about an hours and forty five minutes (1hrs 45min) to get there by boat.